El cliente siempre está en el centro de nuestra práctica.
NUESTRA
PRÁCTICA
Nuestros clientes cuentan con una combinación de nuestra capacidad en diferentes áreas del Derecho, conocimiento de sectores específicos y versatilidad en las áreas de práctica internacional.
En todas las áreas y sectores trabajamos con una inseparable visión de negocios.
Sectores de Especialización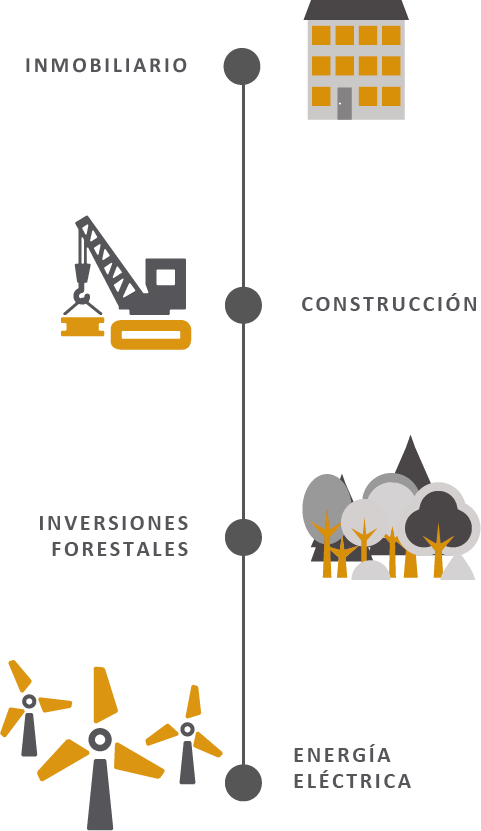 Desarrollo Residencial
Desarrollo Comercial
Transacciones Inmobiliarias Estructuradas (Build-to-Suit y Sale Lease-Back)
Adquisiciones e inversiones en Inmuebles
Sociedad Holding Inmobiliaria
Subdivisión de áreas inmobiliarias y Fraccionamientos
Inmuebles de uso Logístico y Industrial
Renta de Bodegas y Mini-bodegas (Self-Storage)
Hospitalidad y Turismo
Teatros y Estadios Multifuncionales
Centros Comerciales
Contratos de Renta y Retail
Mercado de Capitales Inmobiliario
Transacciones con Inmuebles en Zonas Rurales
Auditoria Inmobiliaria
Regularización Inmobiliaria
Litigios Inmobiliarios
Arbitration involving Real Estate Transactions
Negotiation of different types of construction contracts (lump sum turn-key contracts, partial construction contracts, MGP, DBOT, DBOTM, and Alliance Contracts, among other).
Negotiation of technical projects and architectural contracts.
Legal advice to concessionaries, investors and financing entities in analyzing and negotiating infrastructure construction contracts.
Legal advice in the creation and coordination of RFPs.
Negotiation of contracts following international models such as FIDIC – International Federation of Consulting Engineers (Yellow Book, Silver Book, etc.), AIA (American Institute of Architects), etc.
Construction contracts management, participation in expert panels, as well as litigation and arbitration involving construction.
Structuring of investment vehicles, corporate structures and joint ventures for foreign and national investments in the sector in accordance with regulatory legal requirements.
Purchase and sale, rural lease and rural partnerships, usufruct, surface rights of rural lands with timberland forests.
Formation of timber funds in the local and international markets, including their investments in forestry companies (through M&A deals), strategic rural properties or planted timber.
Due diligence of forestry assets and rural properties, as well as their regularization before Real Estate Registry Offices and other competent authorities.
Legal advice related to rules restricting foreign investments in rural lands and lands close to the country's borders.
Strategic litigation and arbitration involving the sector.
SECTOR DE ENERGÍA ELÉCTRICA
M&A involving Electric Energy Assets
Structuring of Energy Generation Projects
Structured Financing
Project Finance
Advice in the contracting of Construction and Equipment Supply
Management of Contracts and Claims
Advice in Bids in the Regulated Market (ACR) environment
Transaction in the Unregulated Market (Mercado Livre - ACL)
Energy Structured Transactions – Physical and Financial Markets
Advice on corporate and regulatory matters for concessionaires and authorized agents
Administrative and Judicial Litigation, as well as arbitration in contractual, corporate and regulatory matters.
INTERNATIONAL AREAS OF PRACTICE
---
Con base en la relevante experiencia internacional de los socios del despacho, nuestro despacho asesora a clientes en diversas transacciones internacionales, incluyendo inversiones en Brasil por empresas extranjeras, inversiones en el exterior por empresas brasileñas, o en transacciones que envuelvan empresas en múltiples jurisdicciones.
Práctica LATAM
Enfocada en empresas con intereses, operaciones o negocios en uno o más países de Latinoamérica.
Mexico Desk
Como parte importante de la Práctica LATAM está concentrada en negocios que involucran a México, tenemos profesionales enfocados en la atención de demandas que involucren clientes o transacciones con este país.